Do I pay the price including VAT or excluding VAT? Dispatching outside the EU
Do I pay the price including VAT or excluding VAT? Dispatching outside the EU
Orders dispatched to EU countries (excluding Czechia)
If your delivery address is in the EU and you include a valid Tax Identification Number, we will issue you an invoice for the price of the goods and delivery without VAT, in accordance with Article 196 of Council Directive 2006/112/EC. Customers who do not fill in a valid Tax Identification Number will be invoiced for a sum including Czech VAT at the rate of 21 %.
Orders dispatched to Czechia
When we send orders to Czechia, all customers are charged VAT.
Orders dispatched to countries outside of the EU
If your order is to be delivered outside of the EU, you will always pay the price excluding VAT. When dispatching goods outside of the EU, it may happen that your Customs Office will charge you the local VAT and import duty according to the Customs Office rates. You must make such payments yourself. VAT and import duty is usually charged when the price of the package (price of goods including delivery charge) exceeds a certain limit value. We recommend you to get familiar with valid local legislation before ordering. To calculate the import duty and local VAT, you may use the online service https://customsdutyfree.com/duty-calculator/. Here is an example of the completed form for sending projector lamps forthe value of 250 GBP excluding VAT to Great Britain. Carrier might charge an extra fee for custom processing of goods.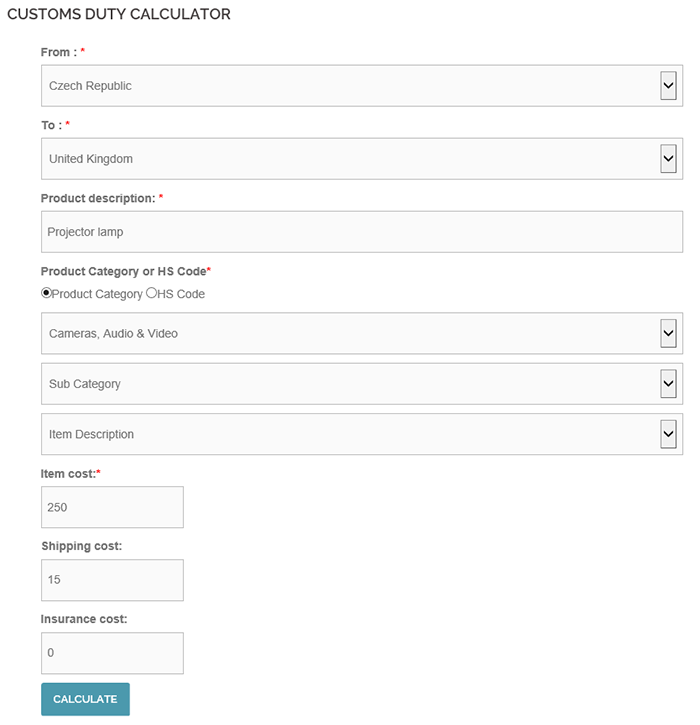 We are here to help you
choose the right lamp!
feel free to contact me with any questions or concerns

Serhii Ustianskyi
customer service
Contact me
If you already know everything necessary about the lamps, just choose the right one for you
Rapid lamp navigation
Find your lamp in just 4 clicks